Norway, a country known for its captivating landscapes, thriving cultural scene, and top-notch education system, has become an increasingly attractive destination for international students seeking a world-class education. However, the cost of studying and living in Norway can be daunting for many prospective students. To make higher education more accessible and to attract talented minds from around the world, Norway offers a diverse array of scholarships tailored explicitly for international students. These scholarships in Norway alleviate financial burdens and serve as a gateway for passionate learners to unlock their academic potential and make the most out of the rich cultural tapestry of this Scandinavian nation. If quality of life is your priority, studying in Norway is an excellent choice. 
Norwegian universities and colleges actively support international students through their scholarship programs. These institutions offer merit-based scholarships, recognizing exceptional academic achievements and granting partial or full tuition fee waivers. Furthermore, research grants are available for those embarking on master's or doctoral programs, promoting innovative research and fostering international academic collaborations, and offering students a chance to study free in Norway. 
Moreover, Norway's involvement in the European Union's Erasmus Mundus program further emphasizes its commitment to global academic mobility. International students can experience a diverse academic environment through this program while studying in Norway for a designated period. The cultural exchange and intellectual growth from this experience enrich students' academic journeys and expand their global perspectives.
For students from the United States, the Fulbright program presents a unique opportunity to study, teach, or conduct research in Norway. Supported by the Norwegian and US governments, Fulbright scholarships promote mutual understanding and cross-cultural exchange between the two nations. In addition, several non-governmental organizations (NGOs) and private foundations in Norway actively contribute to the cause of international education by offering scholarships in Norway. These scholarships often focus on fields such as sustainable development, human rights, or gender studies, aligning with Norway's dedication to addressing global challenges and societal issues.
To increase their chances of securing a scholarship, prospective international students should begin their research early, meticulously review scholarship requirements, and ensure they meet the eligibility criteria. Also, maintaining a solid academic record and obtaining compelling recommendation letters are essential steps in the application process. A well-written personal statement showcasing passion, motivation, and alignment with Norway's educational and research goals will further enhance one's application.
This article will delve into the different types of scholarships in Norway for international students in Norway, a list of Universities with no IELTS requirement, and much more. These scholarships serve as a pathway, providing them with opportunities to explore their full academic capabilities and achieve their educational goals. So, make sure you read till the end!
How Can International Students Get Fully Funded Scholarships in Norway?
Fully funded scholarships in Norway is your ticket to study in a European country for free. However, getting started might seem daunting. For graduating high school students, exploring scholarships provided by Norwegian colleges, funding opportunities from their home country, and awards granted by the Norway government is beneficial.
For bachelor's students seeking to pursue graduate studies in Norway, it is essential to research scholarship options offered by Norwegian graduate schools and explore any connections that their home institutions may have with universities in Norway. Furthermore, it is crucial to look into various national and international organizations that offer financial support to international students, aligning with their academic aspirations. By exploring these avenues, international students can increase their chances of obtaining a full scholarship to study in Norway for free.
List of Top Scholarships in Norway for International Students
Students have the option to pursue higher education at either public or private universities in Norway. Most public universities are tuition-free, just like Germany, international students may have to pay for the registration charges and student union charges etc. However, private universities may cost between €7000 to €19000. Moreover, scholarships in Norway for international students will also provide other benefits to help them focus on their studies instead of worrying about the financial burden that comes up with studying abroad. Norway provides several prominent scholarships for international students, some of which are:
BI Presidential Scholarship 

ERASMUS+ Scholarship

Mobility Grant for Norwegian Language and Literature 

A. Wilhelmsen Foundation Scholarship 

NTNU Scholarship 

The $2000 "Privacy Matter" College Scholarship

CLIFF-GRAD Scholarship (PhD)
The CLIFF-GRAD Scholarship supports international PhD students engaged in research related to climate change and sustainable development. This scholarship in Norway offers financial assistance and research collaboration opportunities for scholars working on critical environmental challenges. The CLIFF-GRAD Scholarship serves as a significant opportunity for international students to make a meaningful impact on environmental research and contribute to the global effort to mitigate climate change and promote sustainable development. If you want to apply, visit the official link provided. 
Coverage: USD $230 – USD $700 (amount may vary)
It is a highly sought-after scholarship for studying in Norway and across Europe. The scholarship offers full exemptions from tuition fees, registration fees, examination fees and grants access to laboratory and library facilities at the host university. Moreover, it provides study and research grants, along with coverage for travel expenses. The duration of the scholarship varies from 3 to 12 months for full-time courses and 2 to 12 months for training programs. It is important to note that the exact financial coverage may vary based on the specific Erasmus+ program, the participant's home country, and the host institution's policies. To avail this incredible opportunity, interested individuals can apply through the official website.
The A. Wilhelmsen Foundation Scholarship program empowers international students pursuing higher education in Norway. This scholarship provides financial support to students from diverse backgrounds and academic disciplines, fostering academic and personal growth. The scholarship in Norway is open to all international students pursuing a Master's degree at BI Norwegian Business School. The application process for the scholarship is straightforward. To apply, you need to submit a scholarship letter outlining your career aspirations, how you plan to contribute to your chosen field of study, and a brief overview of your family's financial situation. The letter should not exceed one page in length. Plus, your academic grades and past experiences will also be taken into account during the selection process.
Coverage: Includes full tuition fee coverage and a living stipend
The Norwegian Business School ranks as the second-largest business school in Europe and holds the distinction of being Norway's largest. With its primary campus situated in Oslo, BI operates across four locations. The institution employs a total of 845 professionals, comprising 441 administrative staff and 404 academic faculty. This scholarship opportunity in Norway is available to all Master of Science students currently enrolled at the university. International students can benefit from the Norway scholarship, which covers the program's tuition for a duration of two years, and also provides a stipend to cover living expenses. To be eligible for this scholarship, candidates must possess outstanding academic records, with a requirement of achieving a grade of A on the ECTS scale or an equivalent. While it is primarily offered to 3rd-year MS students, applicants must also submit a 1-page scholarship essay detailing their career aspirations and economic background. Moreover, GMAT/GRE scores are taken into account during the selection process for this scholarship.
Coverage: NOK 3000 – 6000 for travel depending upon the country 
The Mobility Grant for Norwegian Language and Literature assists international students who wish to study the Norwegian language and indulge themselves in Norwegian literature and culture. This grant promotes language proficiency and cultural understanding, encouraging cross-cultural communication. Through this grant, you have the opportunity to travel, stay, and conduct research in Norway for a period of 1-3 months. The grant provides financial coverage for your accommodation, travel expenses, and living costs during your stay in the country. To be eligible for this scholarship in Norway, it is essential to be affiliated with the Department of Nordic/Scandinavian Studies at an institution located outside of Norway.
Coverage: Funding provided 
The NTNU Scholarship supports international students pursuing higher education at the NTNU (Norwegian University of Science and Technology). This scholarship program offers research grants, tuition waivers, and other financial benefits, encouraging students to contribute to innovative research projects and academic development in various fields. Please note that this scholarship is exclusively available for master's programs and does not cover living expenses. You can apply for the scholarship by submitting the application either along with the university application form or separately before the deadline.
The $2000 "Privacy Matter" College Scholarship
The "Privacy Matter" College Scholarship is open to international students passionate about privacy advocacy. Applicants participate in an essay competition on privacy-related topics, and the winner receives a $2000 scholarship for demonstrating dedication to promoting privacy rights. Applicants for this scholarship are required to participate in an essay competition that focuses on privacy-related topics. Through this essay, students have the chance to showcase their knowledge, insights, and dedication to privacy advocacy. 
Universities in Norway Without IELTS Requirements:
A large number of international students, especially Pakistani students, look for scholarships in Norway without IELTS. There are some universities in Norway that grant admission with No IELTS. If you have always dreamed of such an opportunity, be sure to go through the list below, as these few universities that do not require you to take the IELTS exam to secure admission. However, most universities require IELTS for admission and scholarship for international students. These universities recognize the diversity of their student body and value the importance of English-taught programs for international students.
University of Oslo

University of Agder

University of Bergen

Norwegian University of Science and Technology (NTNU)

University of Tromso 

University of Stavanger

Oslo Metropolitan University

Inland Norway University of Applied Sciences

Western Norway University of Applied Sciences

Nord University
How to Study Free in Norway?
Norway offers tuition-free public institutes for EU and non-EU students. Norwegian University of Science and Technology offers tuition-free undergraduate programs for students from all countries. The University of Bergen is another institute offering tuition-free bachelor's programs in Norway. Master's students can also pursue quality education in Norway that too for free! Many Norwegian universities offer tuition-free master's courses, and most courses are available in English. However, international students have to pay a minimum sum of semester fee, registration fee or student union fee. Therefore, before applying to study in Norway, do thorough research about the university's requirements and charges that may sum up in the form of registration fees or student fees. 
Norway also offers several PhD scholarships and fellowships. International students can check Research fellowships at the University of Oslo. Candidates will receive a good amount of salary or stipend and several other benefits. 
Those who are looking for financial support for academic and living expenses can apply for scholarships in Norway for international students. We have provided the list of scholarships above. Some scholarships are government-funded, while others are offered by government-funded organizations and institutes to help students pay for their higher education in Norway. However, the living cost in Norway is higher than some other countries in Europe. So if you are planning to study in Norway, check the living cost, including housing and accommodation, public transport, medical and health insurance etc.
Tuition-free Universities in Norway for International Students
Are you aspiring to pursue higher education in Norway and looking for cost-effective options? We present a comprehensive list of top Tuition-free universities in Norway for international students that offer excellent academic programs without breaking the bank. Most public universities in Norway do not charge tuition; however, students have to pay the registration fee and other charges. These institutions are known for providing quality education and fostering an inclusive learning environment, making them ideal choices for international students seeking a world-class education in Norway at an affordable cost.
University of Stavanger

University of Oslo

University of Bergen

Nord University 

Oslo Metropolitan University 

University of Nordland
Requirements to Study in Norway for International Students:
The requirements for every study program are different, i.e. it is different for undergraduate, postgraduate and doctorate scholarships. Apart from academic requirements, there are some other requirements, including English proficiency requirement, a valid passport, an acceptance/offer letter, health insurance and sometimes proof of valid funds to study in Norway.
In conclusion, Norway offers a diverse range of scholarships for international students, making it a highly desirable destination for pursuing higher education. With the support of scholarships like the ERASMUS+ and the A. Wilhelmsen Foundation Scholarship Program, students have access to financial assistance, enabling them to study for free in Norway. By availing these opportunities, international students can gain not only a world-class education but also a chance to experience Norway's rich culture and stunning natural landscapes.
You would not want to miss out on the chance to secure a scholarship in Norway. Take the first step towards your academic journey by exploring the available scholarships and fulfilling the application requirements. Visit the respective scholarship providers' websites for further details and begin your exciting journey to study in Norway today!
Hopefully, the list of scholarships in Norway for international students is helpful for you to plan your higher education journey in Norway. Subscribe to stay updated about the new opportunities and get a chance to study and travel the world for free!
Join 37.6K other subscribers
For daily updates about trending opportunities join our telegram channel and stay updated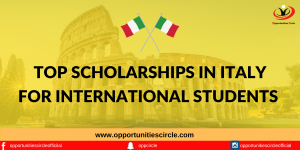 Are you dreaming of studying in a European country? Opportunities Circle is here with a list of top scholarships in Italy. There are many fully
Read More »
Are you ready to study in New Zealand for free? Opportunities Circle is here with an article that will help you find top scholarships in
Read More »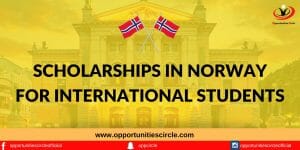 Norway, a country known for its captivating landscapes, thriving cultural scene, and top-notch education system, has become an increasingly attractive destination for international students seeking
Read More »
Hopefully you link our list of opportunities to stay updated about the new scholarships for Indian students and get amazing chance to travel the world for free and chance to study in top world universities subscribe to our list below
Join 37.6K other subscribers
For daily updates about trending opportunities join our telegram channel and stay updated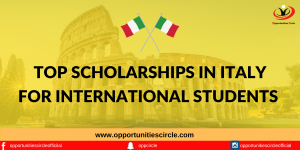 Are you dreaming of studying in a European country? Opportunities Circle is here with a list of top scholarships in Italy. There are many fully
Read More »
Are you ready to study in New Zealand for free? Opportunities Circle is here with an article that will help you find top scholarships in
Read More »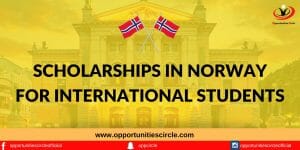 Norway, a country known for its captivating landscapes, thriving cultural scene, and top-notch education system, has become an increasingly attractive destination for international students seeking
Read More »